Regular price
$55.00
Sale price
$29.95
Unit price
per
Sale
Sold out
Put On A Magical Show!
Looking for a thing to attract people's eyes? This Magician's Fire Wallet will do the trick! It instantly bursts into flames when you open your wallet. Also, it extinguishes when you close it back up. 
Everyone has the same old boring wallets these days, spice it up a little with this Fire Magic Wallet. Prank your partner, show it off to your friends and family, or use it as a regular cool looking wallet!
SAFETY FIRST
Safety is a top priority for us. When using The Fire Magic Wallet, none of your stored personal items (cards, cash, licenses) are at risk of burning. The flames stay within the flame pad, keeping your things 100% safe. When you close the flame pad, the set flames will automatically cease.
EASY TO USE
Open the wallet, and quickly push the flint wheel, the magical flame will pop up, and the audience's surprise will follow instantly.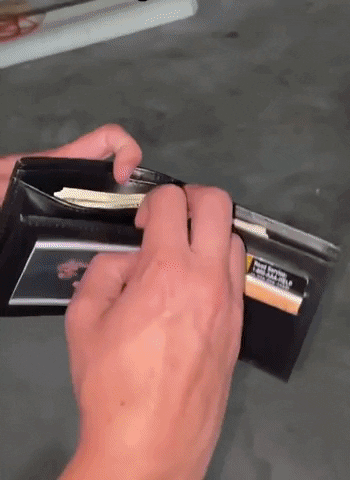 The perfect conversation starter, our product allows you to have the eyes of everyone around you. Prank your friends and family, surprise the drive-thru worker, and make heads around you wonder what on earth it is you are holding!


USE IT EVERYDAY
You don't have to be a magician to use the flame wallet. Fire Magic Wallet is fit for everyday use and includes slots for credit cards, cash, and photos. The fire is just a bonus feature!

A MAGICIAN'S ARSENAL
No magic routine is complete without The Fire Magic Wallet! Creates sparks out of thin air, anywhere!
SPECIFICATIONS:
Color: Black
Material: Rubber, PU Leather
Size: 13 x 11 x 3cm
Recommended age: above 18 yrs old
PACKAGE INCLUDES:
1 x Magician's Fire Wallet (Limited Edition)
View full details